Ahhh, Kimi is saying that he
could
retire at the end of 2009! When people say this, it usually means they will be. In a way, I anticipated this.
This
was exactly the reason I was/am planning the trip to Montreal. Because I really wanted to see Kimi Raikkonen drive before he retired. Well, technically I have done that, I guess. I
did
go to Monaco. But he didn't have a great race there, so maybe next year in Canada will be better.
I definitely think Kubica is coming to Ferrari, one way or another. BMW will probably use their automatic resign thing to hang onto him for next season. Then if Kimi retires in 2009, I've got a feeling he'll be into the F2010! Well, hopefully. I know
I
wouldn't say no.
Doesn't this look like a great team to you?
But I will really miss this... :(
And "champagne-does-not-belong-in-the-eyes" moments...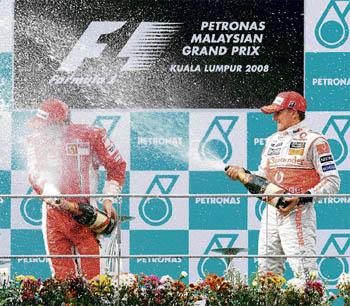 And coming across things like this...
Oh, well, only time will tell. Unless you're Niki Lauda, predicting the future is a tricky business.